About us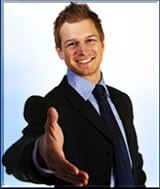 Yahasoft Inc. is an information technology solution company. We develop, design, integrate and support web and client-server software applications for government agencies, public and private companies. We specialize in software solution for special education (especially early intervention), public health, financial management, cancer registry, disease tracking, transportation rate tracking, etc.
Our goal is to provide the state, local and federal government agencies with high quality, user friendly and cost effective software solutions.
Yahasoft's core values can be summarized by four letters I-D-E-A: Innovation, Dedication, Excellence, and Accountability.
Innovation

Our dedicated and innovative software engineers, business analysts and management team continuously strive to find the most appropriate and efficient solutions for our customer's goals and requirements, even if we must go against conventions. We believe in the philosophy of thinking outside the box.

Dedication

We are fully committed to our promises and following through until all goals are accomplished with high quality and customer satisfaction.

Excellence

At Yahasoft, we do not simply just get things done; our tasks are accomplished with the highest quality. We empower our employees with the cutting edge technologies and apply the best practices in software solutions for our customers.

Accountability

At Yahasoft, we hold strong professional ethics and responsibility. We link our success to the completion of tasks with high quality and ultimate customer satisfaction.